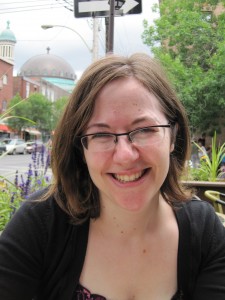 Hi! Welcome to my website. If you'd like to send me an email, please visit the Contact Me page.
Here's my official bio, if you need something short and somewhat professional:
Joanna Karaplis lives and breathes books. During the day, she works for a publishing-related non-profit in Toronto. In the evenings, she's usually either reading a book or working on her own. Thankfully, she also has a few non-book hobbies: swing dancing and learning new languages (current project: Spanish).
~~~
And here's what I'd say if we met in person and had a remarkably one-sided conversation:
I'm originally from Vancouver, BC, but I moved to Toronto in September 2008. I miss the mountains, the ocean, the fresh sushi, and of course my family and friends. But I've also fallen in love with Toronto: after all, I've always been a big-city girl at heart, and this is the biggest city in Canada. (I always miss Vancouver during cherry blossom season, though!)
Besides the chunk of my heart that belongs to Vancouver, there's also a little piece that belongs to Japan (specifically, the Kansai region). I lived there for a total of three years: one in Osaka and two in Wakayama. (The photo in my header was taken in Kyoto, another one of my favourite places.) I'm conversationally fluent in Japanese, but not fully bilingual–I can give you relationship advice no problem, but if we start talking about the stock market I'll need a dictionary and a stiff drink.
I read a ton; feel free to check out my shelves on GoodReads. I have a soft spot for young adult literature in general and dystopian fiction in particular. I like stories that are quirky and deliver a few unexpected twists, and I love humour. I also read things that aren't books: web comics, blogs, cereal boxes.
I spent many years working for publishing houses, so I have an insider's perspective on the publishing process. Thankfully, that hasn't made me jaded about my own book's chances: just realistic. I'll admit that at times it's a little strange to be on the other side of the process, though!
That's all for now. May your bookshelves never be empty, and may your to-be-read pile always bring you joy.