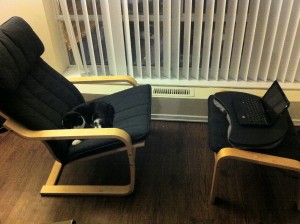 When I'm not hauling my netbook on the subway to take advantage of my longish commute, I'm happily typing away at home, in what I call The Author Chair. Julian hates when I call it that, because it was his chair before we moved in together. And he's not an author (unless you count writing code). But how can I write anywhere else? Desks just don't do it for me. All I need is my Poang to lean back in, my laptop pillow to keep my netbook from burning my legs, and my footrest. (No, I do not work for Ikea.)
Oh yeah, and a kitten. There's often one of those. The picture above features Sir William Purrington III, but I sometimes catch both of them on it, like so: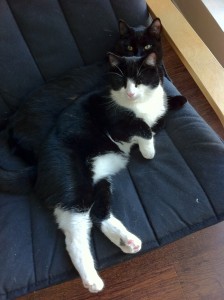 My fellow kidlit author Hélène Boudreau likes to write while working out on a treadmill, which is much more impressive than my comfy Poang.
Where do you do most of your writing? (Or reading. The Author Chair is also quite suitable for reading.)