So, how did everyone's holidays go? Toronto escaped the snowstorms that incapacitated the east coast–even the light snow forecast for Christmas Day never showed up. I spent a quiet Christmas at home with Julian and the kittens. They're settling in quite nicely, and I have high hopes that they will learn to stop stepping on our heads when we're trying to sleep.
Here they are as reindeer, bugging Santa-Julian: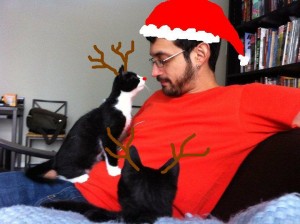 In book news, Fractured received a wonderful review from Pamela at At Home Between the Pages, and I was also interviewed by the lovely Claudia Osmond on her blog.
My big Christmas present this year was an ereader: the Kobo, to be exact. The first ebook I read on it was Before I Fall by Lauren Oliver.
Pros:
I found the eInk reading experience to be just as satisfying and immersive as reading on paper–no eyestrain
Kobo is lighter than a book, and more compact than Kindle or iPad
Don't have to hold Kobo open–much easier to read one-handed
Can carry around thousands of books with you: great for travel
Can download books without going to a bookstore (I looove bookstores, but I also love getting to read a book the minute I decide to buy it, rather than having to go pick it up or wait for it be delivered)
Can add multiple bookmarks
Can sync between computer, ereader, and iPhone so that I can pick up where I left off even if I leave my ereader at home
More space on my bookshelves! So much easier if I ever move again!
Cons (of ereaders in general and the Kobo in particular):
eInk is black-and-white, so covers/illustrations look horrible
Can freeze or run out of battery power, cutting off access to your entire library at once
No touch screen: can be annoying to have to use buttons to scroll through a long menu rather than just tapping the option you want (the iPhone has spoiled me!)
Somewhat slow page refresh can break the reading flow sometimes, especially when starting a new chapter
No lending capability yet, nor can I re-sell my "used" ebooks
Prices still seem high (about the price of a paperback), considering that I can't re-sell, lend, or give away an ebook once I've bought it
Do you have an ereader? If so, which one? What do you love about it, and what do you wish was different?